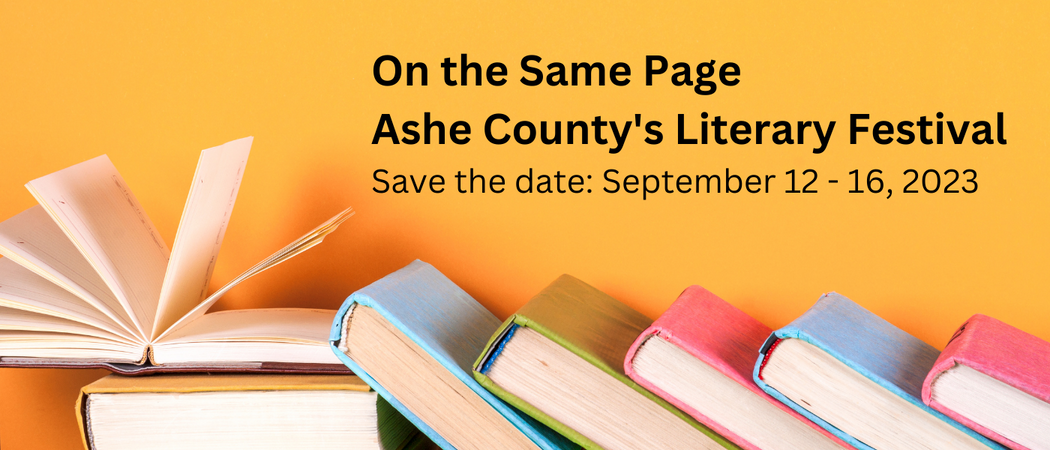 Enjoy a Celebration of Reading and Writing
 Join us in the northwest corner of North Carolina!
From Tuesday, September 12 to Saturday, September 16, you can:
Hear authors read from recent works and answer your questions about books and writing
Participate in a lively discussion of the Festival Read selection
Meet fellow readers and talk about your favorite books and authors
Hone your creative writing skills in author-led workshops
Join our Festival supporters, the Page Turners, for the opportunity to attend an exclusive reception with authors and the Festival planning committee
And much more!
Thank you to our 2022 Sponsors:

The On the Same Page Literary Festival is sponsored by the Ashe County Arts Council and the Ashe County Public Library.

The On the Same Page Literary Festival is made possible through the generosity of organizations, businesses, and individuals who believe in the power and beauty of the written word. One special group of individual donors is our PAGE TURNERS. Each year, they provide a large share of support for our Festival! If you enjoy the Festival, consider becoming a PAGE TURNER. During the events, any Festival volunteer with an OTSP name tag can give you more information. Learn more about how you can help HERE or call the Ashe Arts Center at 336-846-2787.